http://www.nzherald.co.nz/
David Shearer: Cunliffe should quit politics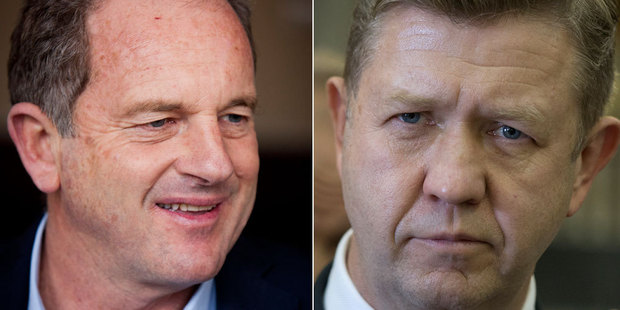 David Shearer, left, believes it's time his former boss and successor David Cunliffe quits Parliament altogether. Photo / NZ Herald
Labour MP David Shearer has ruled out trying to get his old job back but has sent a blunt message to David Cunliffe to get out of Parliament altogether, saying as long as he was there he would be a lightning rod for speculation over the leadership.
Mr Cunliffe announced yesterday he was pulling out of the leadership contest and throwing his support behind Andrew Little instead. He will stay on as an MP and hoped to play a senior role.
Mr Shearer said last night he had decided not to put his name forward, leaving a contest between Mr Little, Grant Robertson and David Parker. Nominations for the leadership close today and the candidates will kick off the first of 14 meetings for members tomorrow.
Mr Shearer said he would have preferred it for the new leader's sake if Mr Cunliffe had stayed in the race and lost. "I think it would have been easier for whoever wins if he had stood and lost.
It would be a cleaner break for whoever takes over. His followers undermined Phil Goff and myself and I think he continues to be a presence that will make it difficult for a new leader."
He said if Mr Cunliffe had lost this would have sent a clear message to his supporters, rather than let them have the impression he could have won if he hadn't withdrawn. He was also disappointed with Mr Cunliffe's decision to stay on as an MP. "It would be easier for the new leader if he decided to move on."
It was a sentiment echoed by several other MPs, although none would be named. Mr Cunliffe pointed out Mr Shearer was also a former leader. "I think that's an unfortunate thing for him to say and it belies my long-term loyalty to the party and caucus."
He said he did not have any leadership aspirations. "I made a difficult decision on a principled basis which is that caucus would be best served by another person at the present time." But he believed he could have won the leadership if he had not pulled out.
He said he would now help Mr Little. "He will need to increase his exposure round Auckland and I can probably help with that."
Service and Food Workers Union representative Jill Ovens said many of its members were still firm Cunliffe supporters and would be disappointed he had withdrawn. She said his nod to Mr Little would be valuable. "But I don't think any of the three can take for granted the support of party or union members."
Mr Little said Mr Cunliffe had spoken to him before making his decision and had indicated which areas he would like to be involved in. But Mr Little said he had not asked for Mr Cunliffe's endorsement and would not be offering any positions before the leadership vote.
Both Mr Parker and Mr Robertson said they welcomed Mr Cunliffe's decision to pull out, describing it as for the good of the party. They said it was up to him whether he stayed in Parliament or not.
Mr Shearer would not say who he was likely to back. He said it had been a hard decision not to run for the leadership because he felt he had unresolved business. He did not intend to quit.
"I have no plans of leaving. I want to help in rebuilding."
He told Radio New Zealand today the Labour Party had three years to rebuild and get in behind the new leader.
"I believe that what we need to make sure is that we have the ability for the Labour Party to go forward behind the new leader, without any murmur or dissent.
"The people who had attacked himself and Mr Goff were mostly anonymous, Mr Shearer said.
"There are certainly some who's names I think I know, but these are people who sit behind darkened screens and blog and undermine people.
"What we don't need is that. Let's have a clean start, let's move on behind the new leader."
The party was not meeting the aspirations of the "people in the middle", he said.
"Those are the people who work in offices, the contractors, the self-employed people who are working really hard and trying to get ahead and we're not standing up for those people
."There's a real brand issue for Labour I believe."
- Additional reporting APNZ