Lisa Walton, left, and Lizi Hamer. They set off for the Annapurna Range this week but have not been heard from for days. Photo / Facebook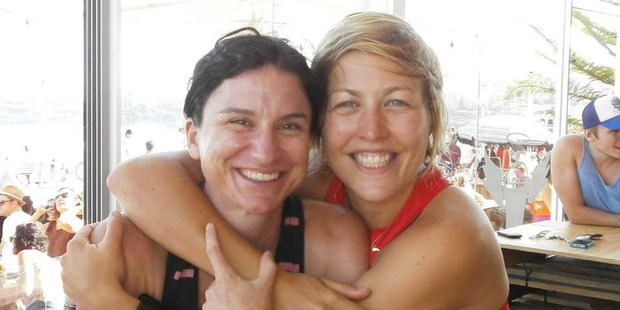 Himalayan avalanche: Kiwi Lisa Walton and UK wife safe
A former NZ Olympic hockey player and her British partner who were feared missing in a deadly snowstorm in Nepal are believed to be safe and in touch with their families.
Kiwi Lisa Walton and Lizi Hamer were thought to be among dozens of people who are still missing after an avalanche struck near Annapurna, killing at least 32 people.
APNZ and the Herald on Sunday have been told that Walton made contact with her family this afternoon and at least one of the couple's friends.
Walton, lives in Singapore but grew up in Christchurch, had set off for the Annapurna Range with Hamer earlier this week. Several days ago Hamer shared her excitement at taking on the trek. "L&L adventure - Trekking in Nepal," she wrote on Facebook, accompanied with a photograph of a backpack at her feet.
Friends and family had expressed on Facebook that the couple had not made contact with anyone outside of Nepal this week.
A spokesman for the Ministry of Foreign Affairs and Trade told Fairfax Media: "Our understanding from the itinerary is that they were not in the affected regions of Nepal the day the blizzard occurred.
"In addition, our Honorary Consul [in Nepal] understands that the area where they were later scheduled to trek is in the lower levels of the Annapurna region and there have been no reported problems in this area."
Friends had said that Walton and Hamer were the kind of people who would drop everything to help with a rescue operation.
Before hearing the news that Walton and Hamer were safe, fellow hockey star Mandy Barker had said: "We all in the hockey community know the news and we hope that something good will come at the end of it. We've heard there's bad cellphone coverage out there, so we try to think of the positives at this stage.
"Certainly, our hearts go out to their families. It must be a really hard time for them, a really worrying time."
Black Sticks teammate Anna Lawrence said Walton was "incredibly strong" and fit.
"She's a fabulous person," Lawrence said. "I just hope that her and Lizi, who's also very fit and strong, are using all of that to help them through wherever they are now."
Miranda Dimopoulos, a close friend of Hamer and Walton, said earlier today that the lack of contact could be explained by poor-quality cellular phone networks and limited internet access.

She said Hamer and Walton were also registered with the Trekking Agencies' Association of Nepal (TAAN).
Annapurna, at 8091m high, is the world's tenth-highest mountain. The Annapurna circuit is a 205km, horseshoe-shaped trail.
The circuit gave trekkers "an opportunity to walk through the naturally rich terrain of Nepal while experiencing some of the most beautiful mountains in the country," the Washington Post reported.