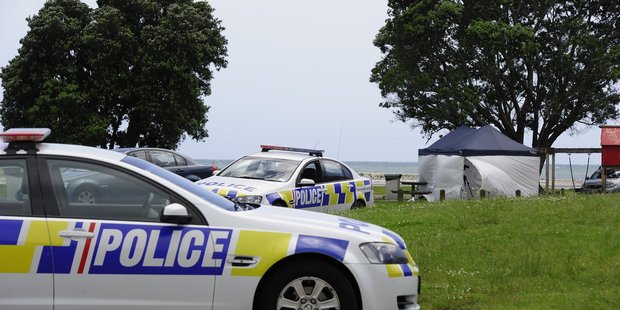 The man on trial for murder after shooting Maketu father Isaac Bushell told a police detective he feared for his safety but did not mean to kill Mr Bushell and wept after he pulled the trigger.
Tyrone Daniel Flavell, 20, who is on trial in the High Court at Tauranga, has not denied shooting 46-year-old Mr Bushell with pump-action shotgun at close-range in the chest near a beachside park in Maketu about 1.30am on December 8 last year.
But denies he had murderous intent.
In the first of three video-taped interviews at Tauranga police station played to the jury today.
Flavell told Detective Graeme Dunn he feared for his safety after he was assaulted and warned by Mr Bushell as he and his new girlfriend Sam Reid sat drinking in his vehicle to end their relationship - her former partner is a patched Mongrel Mob member.
Flavell said after he was punched twice in the face by Mr Bushell and threatened he was "really angry" and just wanted to him to leave them alone.
But he was also scared after being told Ms Reid's ex-partner would come after him when he got out of prison, and wanted to kill him, he said.
Flavell said he loaded the gun and approached Mr Bushell who had walked off intending to try and frighten him off but Mr Bushell turned and walked right up to him.
"I thought he was going to hit me again...He walked right into the barrell and leaned right into me and I loaded a bullet into the spout and pulled the trigger," Flavell told the detective.
"I thought the gun was pointed at his shoulder area but I was too intoxicated to know," he said.
Flavell said he did not mean to kill Mr Bushell and wept after pulling the trigger.
"I hopped back in the truck and cried, I didn't believe I had done it, " he said.
The shot resulted in a wound to the right side of Mr Bushell's chest and extensive damage to the upper right lung and chest cavity and he died a shot time later.
Flavell said after tossing the gun in the sea, he and Ms Reid drove away and he ended up back a party he had attended early in the evening where he started drinking again.
The trial continues.