South Islanders will have some reprieve from the cold winds, rain and snow that lashed regions yesterday but are warned to expect more days like that this winter.
Philip Duncan of WeatherWatch said show showers were expected to ease and temperatures were should rise slightly.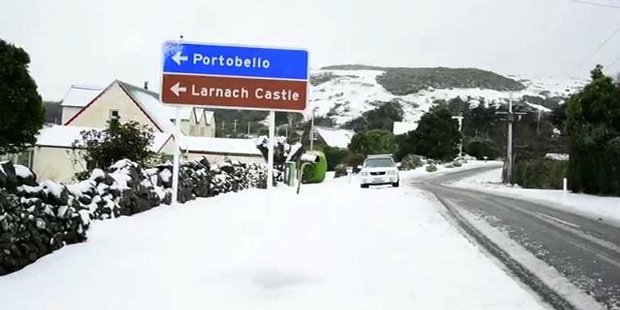 Video

"It will be hard to notice but it will be a degree or two warmer today and it doesn't sound like much, and most people won't notice it, but it makes a big difference on the level of snow falls so the snow levels are going to lift up a bit today," Mr Duncan said.
Snow showers are expected to lift up higher into the mountains and hills and should also be more limited to higher areas and less on farms and population and
urban areas. Snow clouds are also expected to dry up as the day goes on.
"A change in air flow is expect and it is just enough to warm it up," Mr Duncan said.
However, this is just the beginning as El Nino is expected to bring more days like yesterday.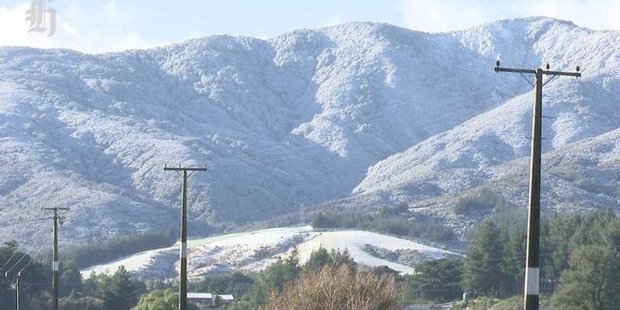 Video

Dunedin could be hit by as many as eight significant snowfalls this winter as El Nino looks set to
bring a raft of polar-chilled southwesterlies to the city.
A storm blasting Antarctic weather over Otago closed roads, cut power and blanketed towns in snow yesterday.
The Antarctic blast closed the main northern route into Dunedin until lunchtime as authorities waited for snow and ice to clear.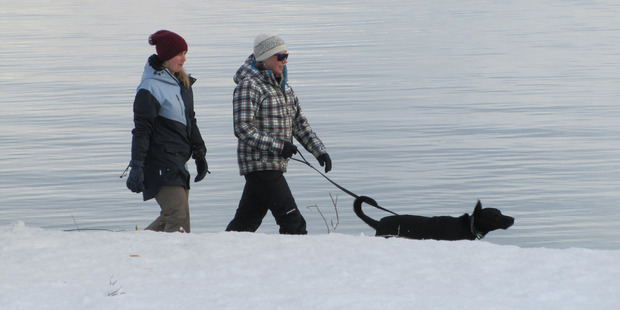 Rain, hail or snow, dogs must be walked. In this case, Benson by Shannon Trimble and Cat Kearsley, of Wanaka. Photo / Otago Daily Times
Inland Otago roads were treacherous, with warnings in place on main routes throughout the day.
With temperatures hovering in the low single digits, electricity workers across the region battled to restore power after it was cut by snow and wind in parts of Dunedin and Central Otago.
The most dramatic incident was in Tainui in Dunedin where a power transformer exploded ''with a sound like a bomb'' after being hit by lightning about 5am.
In neighbouring St Kilda, high winds toppled a large brick chimney at Forbury Park raceway.
Dunedin hydrologist Dave Stewart said while the city's snow was ''seasonally normal'', he warned this winter's expected El Nino weather pattern could lead to a far higher incidence of snow days than what Dunedin had experienced in recent years.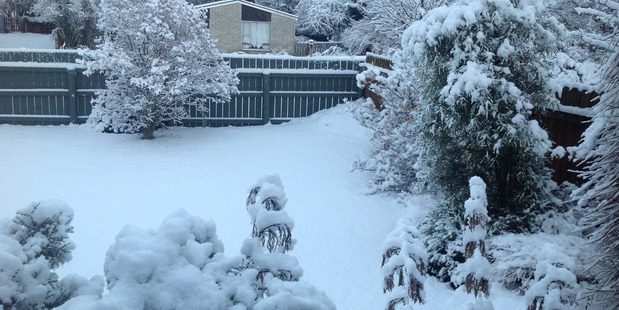 Gallery
Icy winter blast hits NZ
An El Nino weather pattern tended to bring increased southwesterlies from the polar regions, which were likely to lead to the increased snowfall across the city, he said.
MetService meteorologist Georgina Griffiths said predicting snow days was difficult.
A combination of moisture, cold temperatures and uplift was needed, and could not be predicted accurately.
But she too said the South was likely to experience colder-than-normal weather during the coming winter months.
El Nino's main impact was expected in spring, with significantly colder temperatures in the South than those experienced over the past few years, she said.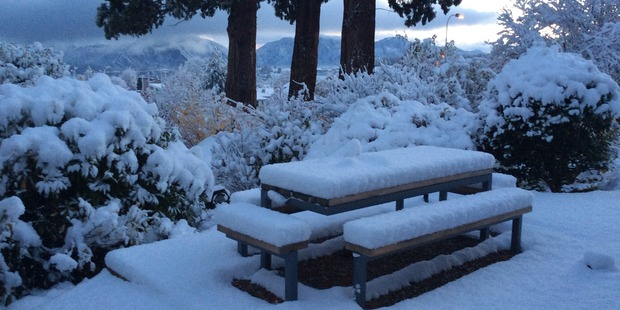 Thick snow blankets Wanaka. Photo / Supplied
Thunderstorms running up the east coast brought lightning strikes, with 13 recorded strikes on the Otago Peninsula between Sunday evening and noon yesterday.
Aurora Energy said lightning damage to transformers caused power cuts in Musselburgh.
Severe winds downed lines in Port Chalmers and on the Otago Peninsula.
Heavy snow caused power outages in Central Otago.
Power had been restored to most affected parts yesterday.
Mr Stewart said Dunedin's roads and city could have been hit far harder than they were.
An unexpected temperature rise early yesterday meant Dunedin's snowfall was considerably less than expected, much of it washed away by rain.
While snow began falling steadily in Dunedin about 8pm on Sunday, settling at sea level by 11pm, the forecast heavy snowfall never eventuated as temperatures rose to about 3degC during the night.
MetService meteorologist John Law said elevated areas had the heaviest snowfalls, with 25cm at Clarks Junction between Sunday evening and noon yesterday. Dunedin's hill suburbs received 10cm of snow, with just 3cm at sea level.
State Highway 87 between Outram and Kyeburn remained closed last night.
Several Dunedin bus routes were disrupted.
Good news for the North Island
Aucklanders can breath a sigh of relief however, as today is the last day of showers and strong winds according to Philip Duncan of WeatherWatch.
"As we go through Wednesday, Auckland sees an improvement with the showers finally clearing away and in fact Thursday could be quite a nice day," he said.
"Today will be similar to yesterday but it won't be as intense so we won't get hail and gales aren't as likely. Even the intensity of the downpours don't look the same."
Meanwhile Wellingtonians should see a fairly sunny day but that is coupled with strong cold southerlies. Showers may appear later in the day and this evening.
"Generally speaking today is quite a nice day with southerly winds. The showers are blowing out at see and they are further out at sea than Wairarapa but the South Island is basically sheltering Wellington from the showers," Mr Duncan said.
Showers are not expected to affect eastern parts of the country with the exception of Banks Peninsula. The North Island is caught up in south westerly wind flow and more regions can expect a stead flow of cold wind.
"It is all related to that big storm south east of us in the southern ocean and the south east low runs parallel to our coast line so it comes up the coast line and the South Island basically splits it in half," Mr Duncan said.
"It blocks the North Island from the showers and you end up with showers just affecting Auckland, Waikato and Northland."
Frost affected some inland parts of the country.
- With additional reporting from the Otago Daily Times