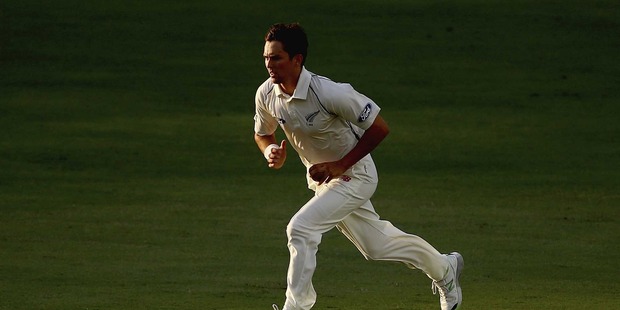 New Zealand fast bowler Trent Boult. Photo / Getty Images
Andrew Alderson breaks down the best bits from the fourth day of the third test between the Black Caps and Pakistan in Sharjah.
Important moment:
There's a westerly zephyr at the start of Pakistan's second innings. Tim Southee's taking the ball away from the right-handers from the north and Trent Boult's bringing it back in from the south. Perfect tactics. Boult gets all the tangible rewards with Pakistan 30 for three by lunch.

Best shot:
As part of his 65, Mark Craig pushed a single to square leg off Mohammad Hafeez to bring up 681 for eight, New Zealand's highest test score. It further demoralised Pakistan. The visitors eventually reached 690, setting a numbing lead of 339.
Ball of the day:
Boult to Younis Khan, first ball. Hoops in and Pakistan's premier batsman plays across the line to be trapped lbw. Younis falls over and then reviews to exacerbate the awkwardness of the situation.
The verdict of 'umpire's call' means a long walk.

That's quirky:
Mark Craig's reflection on moving from bolter to belonging in the test team: "I wake up, put the kettle on each morning and have a wee smile. It's good fun."
Tweet as:
Stats all:
Craig's match figures of 10 for 203 were the best in seven tests at the Sharjah ground. He trumped Shane Warne's eight for 24.
ANDREW ALDERSON TRAVELLED TO THE UAE COURTESY OF EMIRATES
http://www.nzherald.co.nz/