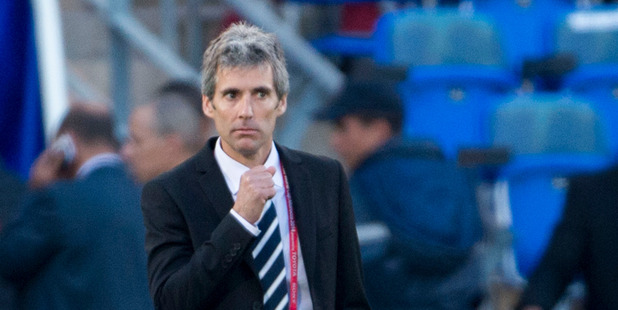 Auckland City FC coach Ramon Tribulietx has been overlooked for the Brisbane Roar coaching job, after former Socceroos hero John Aloisi was confirmed in the role last night.
Tribulietx made the shortlist for the A-League job after leading Auckland to an astonishing third place at the Club World Cup last year, a feat that earned he and the team a Halberg nomination.
Aloisi will direct "all football operations" with the three-time champions in his first senior role since he was sacked as coach of the then-Melbourne Heart in December 2013.
The 39-year-old will join the Roar in June with his first match in charge to be the glamour friendly against Liverpool at Lang Park on July 17.
"I am extremely proud and honoured to join Brisbane Roar," Aloisi said in a statement.
"The club has defined success in the first 10 years of the ... A-League and I am determined to ensure the high standards the Roar players, members, sponsors and supporters have come to expect continue under my stewardship."
The legendary ex-Socceroo won just eight times in 39 matches at the helm of the Heart, who were bought out by Manchester City and rebranded the month after Aloisi's exit.
Aloisi guided the Melbourne club through a run of 17 consecutive matches without a win before the axe was swung.
But departing Roar chairman Chris Fong - who reportedly asked Ange Postecoglou for advice in finding a successor to title-winning coach Mike Mulvey - believed Aloisi was the "perfect fit" to launch the club's new era.
"John brings to the Roar a passionate understanding of Australian football and the A-League," Fong said.
"I am impressed by his determination to succeed and the fresh focus he will bring to the club."
Aloisi has been with Melbourne Victory since February as a development coach for their sides in the National Youth League and National Premier Leagues, while also appearing on Fox Sports as a pundit.
His second chance comes amid a period of huge instability at Brisbane, which is facing a multi-million dollar loss this financial year and is on the hunt for a new chairman following Fong's announcement this week he would be stepping down.
Club owners The Bakrie Group are battling significant financial issues of their own, and a new joint ownership model with a local consortium could be on the cards.
Influential director of football Ken Stead and managing director Sean Dobson have both recently left the club with commercial director David Pourre installed as interim chief executive.
Caretaker coach Frans Thijssen is likely to stay on until Aloisi's arrival, with the Roar to face Spanish La Liga side Villarreal in a friendly in Brisbane on June 3.